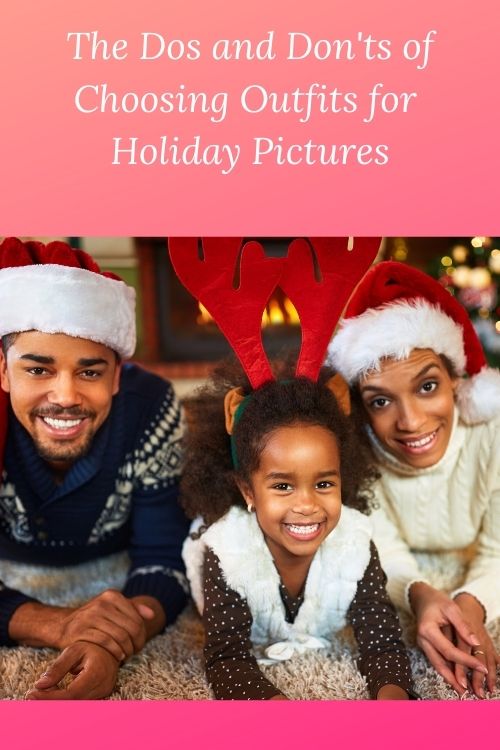 If you want to create frame-worthy holiday pictures, it helps to put some time and effort into deciding what you want to wear. Your outfits will help set the tone for your portraits, so it's important to choose wisely.
If you are feeling concerned about what to wear, stick to these dos and don'ts and you'll be just fine.
Holiday Picture Outfit Dos
Do consider the backdrop. Whether your shoot is in a studio or in a specific location that you love, think about the backgrounds you'll be posing in front of before you settle on outfits for your session. Busier backgrounds require simpler outfits.
Do coordinate. But don't make your outfits match 100%. Coordination doesn't mean that everyone in the shot should look the same, it simply means that the colors, patterns, outfit style matches.
Do incorporate something cozy. Winter is about cozying up to the people you love, so try and add a cozy item of clothing to your outfit. Think textured sweaters or a scarf with an interesting knit.
Holiday Picture Outfit Don'ts
Don't overthink it. Christmas is the one time you don't need to be overly realistic. Yes, you wouldn't normally wear a jacket and snow boots indoors but this is definitely the one time you can, particularly if you're posing in front of a fun backdrop.
Don't over-accessorize. There are a lot of fun accessories and props that you can add to a Christmas-themed shoot but it's also easy to overdo it. If you are going to wear gloves, hats, and your favorite coat, make sure the patterns don't take away from the people in the photo and that the coats don't make you look too frumpy.
Don't make them feel uncomfortable. If the people in the photo feel uncomfortable in their clothing, it's going to show in your photos. Pick outfits that everyone feels comfortable in as this will result in the most natural smiles and an array of fun shots.
Pinterest is a great source of inspiration if you want to look at a few color schemes that you can use for your upcoming Christmas photoshoot.