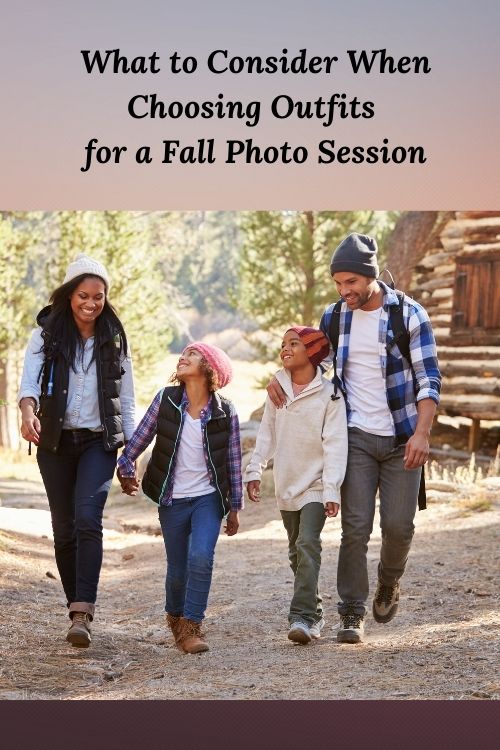 Finally scheduling a fall family session is exciting, until you realize you need to plan your outfits.
Your family photo session is a chance to make genuine memories, which means your outfits should represent who you are as individuals and as a family. Your outfits absolutely don't need to match. Should they be coordinated? Absolutely! But there's no reason why everyone should be wearing the same thing, unless that's something you really want to do.
In the weeks leading up to your photo session, here's what you should keep in mind when planning your outfits.
Choosing Your Fall Family Photo Outfits
It's about to get much cooler, which means your outfits need to fit in with that. Plus, people who are cold are a lot less inclined to enjoy the photo session. For your fall photo session, choose outfits that are warm and layered – just in case it gets warm during your shoot. Pay attention to the temperature throughout the day in the week leading up to your session to make a final call on just how warm your outfits should be. The best advice is to choose pieces that work together but also on their own – layers, layers, layers.
Fall colors are beautiful and some of the easiest to turn into an outfit. Along with considering the colors associated with fall, it's also important to keep your location in mind. If you're opting for an urban shoot where the backgrounds will be busier, you want to choose a color palette that's a bit more neutral. Think brown, red, black, yellow, orange, and deep purple when selecting your palette. Every family member doesn't have to wear the same color, but the colors should coordinate.
Don't Forget About Texture
Many people tend to forget about shape and texture when choosing their fall photoshoot outfits. Knits, plaids, and velvets are all textures that speak to the fact that it's about to get colder. Just make sure that the texture and shape of the clothing you choose coordinates and suits each family member's body.
Know Each Person's Preferences
You may love seeing your little girl with a bow in her hair, but she might hate it. Knowing what your family members prefer to wear will ensure you choose outfits everyone feels comfortable in – this includes you. Discomfort shows up in photos, plus it stops everyone from enjoying the session and making new memories.
Pinterest is one of the best sources of inspiration for fall family photo ideas, so if you haven't already, use it as a source of inspiration.
Once you have your outfits and location sorted, you can fully enjoy every moment of this special family session.