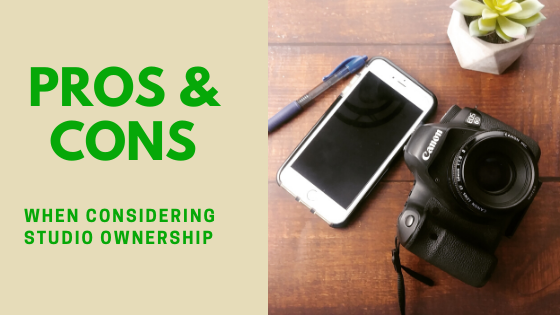 A few years ago I was working out of a shared creative space geared mostly to Photographers, event planner and Makeup artist. When they closed after 2 years I had to decide what that meant for me and my business. I had A LOT of questions one of which was is it time for time for me go out on my own and open my own space? The space I was working out of was not in my City, in fact it was a good 30-45 minutes away. "Wanda, why would you go so far to work!" Well when I started my business I was a suburban photographer. I was working for a lot of the magazines and papers out there and at the time it just made sense. I didn't have clients in Philadelphia NOT A ONE! So at the time, traveling to the suburbs was just something I needed to do.
When the co-working space closed I took some time to think and reevaluate the direction of my business. I built my business and branded myself as a headshot photographer. I did not shoot anything else unless it was for a publication I was working with. So I had to think about this and figure out how to make things work.
I had business goals that I had set up BUT I also knew that my husband was going to be out of work within a few months. (March 2019 he lost his job due to a company relocation). He and I spoke and decided that I would open my own studio. Now let me get REAL with you for a quick minute…My pros and cons list back than was VERY DIFFERENT than it is today. You will have so many variables that come into play as well. Things you will only learn from doing. No blog post or other person can tell you what to expect because YOUR business is and should be different from theirs.
When I first opened my studio many of these things I was not aware of. Yeah I spoke to and met with other studio owners but our talks never touched on these topics. We spoke about new session types and how a studio helped offer options but no one ever told me about the FINANCIAL side of this endeavor. Nor did anyone go into starting from scratch, because for me that's what it felt like, I was starting a business from scratch!I won't lie and say it has been easy but it is and has been worth every step.
SO here goes my list…I hope you find it helpful.
The pros
You don't have to worry about the weather. With a studio you avoid the need of having to reschedule if should it rain, snow or whatever
You don't have the disruptions when you work with other people in a shared space. This is YOUR space and unlike shared spaces you know when you can access the space, you can play your music as loud as you want and you don't have to feel like you HAVE to be social when you go in.
You have a space dedicated to the growth of your business…You can practice-lighting, product photography, and have different types of niches in to see how and if you want to add on a different type of photography to your services
You can design it to your brand and personality style.
THE CONS
You are responisble for everything-bills, rent, networking and marketing EVERYTHING.
If the space is outside of your usual area you will have to do a lot of work at getting the new community familiar with you and your business. Even though my old work space was 40 minutes outside of of my new one I ALWAYS marketed myself to both areas but it wasn't easy. I had only thought I was known in y new community.
Make provisions income. Don't assume that your current client base will follow you. Things like distance and travel time along with HOW they will get to your studio need and should be considered. I had clients tell me I was too far from them and there were roads they just didnt want to take because it was 'a crazy drive'
Now you might have your own thoughts and experiences around this but I'm going to share a few tips to help you get ready and make the leap towards studio ownership.
Do some market research–Check out the community and see if there are any symbiotic businesses you can partner up with to help grow and get people to know you.
Before moving or deciding on a location make sure you start adding some copy into your social media and start incorporating keywords into your blog post to help you get found. When prospects go to Google and type "Family Photographers Near Me" you want to ensure your business is found. Since Google can take some time to update your new location you want to ensure that you start doing this as early as possible.
As far as financials go, make sure you've look at all business expenses and build up a savings to account for any slow periods, ones that you can project (summer and holiday's) and those you can't (time for your community to get familiar with you). Once you move in things like rent, wifi, studio equipment and props, and signage will also need to be accounted for as well.
I hope these tips help you in your planning process and I'd love to hear your thoughs about this especially if you are considering opening your own studio.